Thesaurus
Search more than 275,000 synonyms, antonyms, related words, and idiomatic phrases. Find concise definitions pinpointing the meaning shared by synonyms, and sample sentences showing how words are used in context. The thesaurus is more than just a list of synonyms; it is your guide to more precise and effective use of language.
---
Browse the Thesaurus
---
Featured Game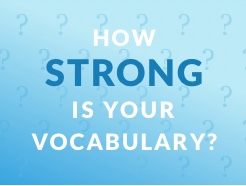 Test your vocabulary with our 10-question quiz!
Your score
Enable cookies for this site and we'll track your scores!
---