Word History
'Pride': The Word That Went From Vice to Strength
Why Pride sometimes comes with a capital 'P.'
---
Pride is a word that has had a number of changes in meaning over its lifetime. In addition to functional shift (taking on a new part of speech) and semantic drift (an evolution of usage resulting in changed meaning), both of which are common to many words in English, pride has undergone some subtle shifts, one of which is occurring right now. Language change in real time!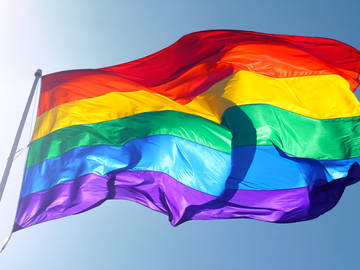 The noun form of pride precedes the verb, although both are quite old (the verb has been in use since the 13th century, and the noun since Old English). In its original sense, pride was hardly something to be proud of, as it carried the meaning of "inordinate self-esteem" and "an unreasonable conceit of superiority." In early use pride was also often found in capitalized form, referring to one of the seven deadly sins.
The use of pride to refer to a reasonable form of self-respect began to appear in the 14th century, and the word has taken on a number of other shades of meaning since then. Pride may still switch easily between positive and negative connotations; as is the case with many other polysemous words, it is generally easy to tell which meaning is intended, based on context ("We took great pride in our daughter's honesty" vs. "His overweening pride in his hair left me feeling unwell").
One of the more recent shifts in the word is concerned with the modern gay rights movement, which, if it may be said to have originated with any one event, is tied to the riot that occurred at the Stonewall Inn in New York City on June 28th, 1969, in which some 400 people protested the police raid of that establishment. In June of the following year marches commemorating Stonewall were held in Los Angeles and New York City. Pride is frequently found, modified by gay, in early texts referring to these events.
Issue 19 reaches the stands on Monday June 29, the day after New York's mass Gay March and Gay In, concluding a week's activities on Gay pride and liberation.
—John Heys, Gay Power (New York City, NY), Vol. 1, issue 19 1970

The Central Park gathering is rescheduled for Sunday, May 31. Until Christopher St. Liberation Day the committee will meet in conjunction with the Political Affairs Subcommittee on Gay Pride Week, chaired by Barbara Glover.
—(Minutes of Meeting) MS Gay Activists Alliance, 21 May 1970
At about the same time there is also evidence of gay pride being used in reference to a collective sense of self-worth, rather than tied to a specific event.
Gay pride and self-consciousness are valid tools to fight oppression.
—Marty Stephan, Gay Power (New York City, NY), Vol. 1, Issue 8 1969

Gay pride seems to be catching, York University in Toronto, Canada has an on campus organization, York University Homophile Association.
—Homophile Action League (Philadelphia, PA), 26 Dec. 1970
Prior to pride being associated with the gay rights movement, it was occasionally found modified by black, especially during the civil rights movement of the 1960s.
An interesting article titled, "Black Pride: a Woman speaks for Her Race," appearing in the February issue of the Atlantic Monthly, is authored by Mrs. Kimbal Goffman ... In her piece, the author expresses hope for dawning of the day when Negroes shall have more of pride in race and in the customs, habits and achievements of Negroes.
—Pittsburgh Courier, 18 Feb. 1939

I think it was Martin Luther King—and I don't always agree with him but I must in this case if I'm quoting his words—who said that to him "Black Power" should be interpreted as "Black Pride."
—Stanley G. Robertson, Los Angeles Sentinel, 28 Jun. 1968
Gay pride was eventually shortened to pride alone, and began to be used as a shorthand for the events of LGBT Pride month, which is held in June. Initially, we see pride used in capitalized form and followed by the year in which it occurs.
Groups, merchants, craftspeople and individuals interested in attending Pride '78 should call.
—Gay Community News (Boston, MA), 18 Mar. 1978

Dennis Gilding is masterminding a gala charity drag marathon at the Hippodrome on June 20th—all proceeds going to Pride '88—with 26 drag performers already confirmed.
—Capital Gay (London, UK), 19 Jeb. 1988
As Pride celebrations and events have progressed from year to year they have been attended and celebrated by an increasingly broad range of groups (adding those who identify as bisexual, transgender, straight allies, and others). By the early 1990s, we see written evidence that reflects the broadened scope of Pride events: the date is often dropped, pride is sometimes capitalized and sometimes not, and it is applied to a much wider range of events.
People attending pride celebrations should also circulate and sign the Stonewall 25 immigration petitions.
—International Gay Association Bulletin (Brussels, Belgium), 1 Oct. 1991

I don't know if I'm going to Pride this year.
—Mike Wyeld, Capital Gay (London, UK), 16 Jun. 1995
Attempting to predict what a word will end up meaning is often an exercise in futility, and pride seems to still be in a state of flux. But that is simply the nature of a living language: messy, hard to pin down, and relishing change.
---